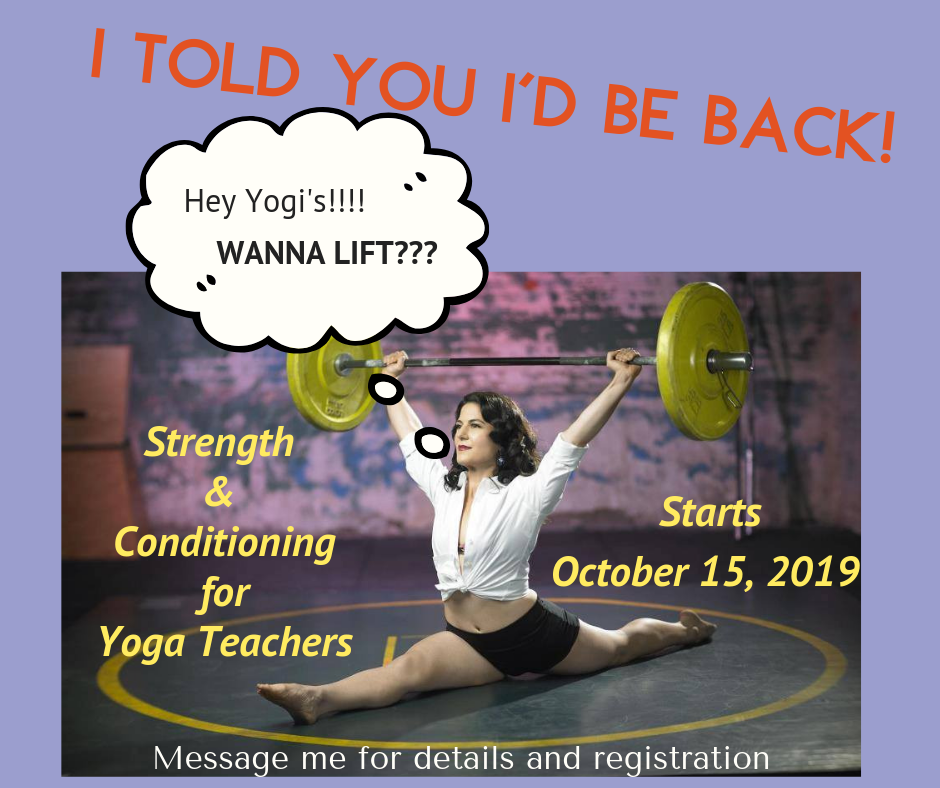 Strength and Conditioning for Yoga Teachers
Tuesdays and Thursdays 
October 15-November 21, 2019
2-3:15 PM
$300 for 12 Classes
Long Island City, Queens, NY
This course is designed specifically with the Yoga Teacher in mind.  It is education-focused and attentive to the unique needs of yoga teachers and yogi's who want to get strong but feel daunted, overwhelmed and mystified by the gym.
I will teach you how to use the gym and how to safely execute essential strength movements such as the squat, Deadlift and Press that will made you super strong on your own terms.
Additional movements like throwing, jumping, and loaded carries will be introduced to round out some of the missing corners of a typical yoga practice. Often this will be woven into a group "workout" for fun and community building.
We will discuss the anatomy and physiology of these movements so there is a deep understanding of how this work is truly affecting the body.
The pace of this 6-week/12-class course is designed so that there is plenty of time to practice and ask questions.
Why should a yoga teacher sign-up for this course?
Professional Longevity:  After a while teaching one movement modality is hard on the body. Adding some strength and increased fitness will buy you a few more years.

Personal Longevity: Stronger people live better, longer. Grip strength–which correlates to overall strength–is a better predictor of longevity than markers like cardiovascular health

Professional Inspiration: Learning a new movement modality can refresh and inspire your teaching.

Personal Inspiration: Getting physically stronger may just inspire you to conquer something new in your life that you never thought possible.

Relief and Respite: Having a smart, dedicated fitness practice that is separate from your yoga practice takes the pressure off your yoga practice to be EVERYTHING–Fitness practice, spiritual practice, energetic practice, etc–and allows it to be more free, more creative, more personal.

More Relief and Respite. Sometimes lifting a barbell or carrying a heavy sandbag is better stress relief than Savasana!
Shoot me an email if you are ready to enroll
Or Click the link below to sign-up for my newsletter